Live Art Auction!
It was a fabulous and fun opportunity to own an original piece of art. From paintings and sculpture, to one of a kind pottery and jewellery.
Artists included Janice Robertson, Alan Wylie, Linda Muttitt, Anita Bisset, Paul Wood, Susan Galick, Judy Nygren, Elaine Brewer-White, Caroline Ashley, Gabrielle Strauss, Barb Defago, Kirn Gill, and Susan Falk.
Thank you to all the artists and galleries who donated these wonderful works of art.
Please click on the links &/or buttons below to visit the artist, studio, or gallery websites.
Artist, Paul Wood, Number 52 Studio + Gallery
. Lino cut and wood type set 9/20, framed, 30 x 18.5" Retail value: $450.
Artist, Richard S. McDiarmid, The Kube Gallery
Watercolour. 13 x 8"
Retail value: $700. paintedlightart.com
"Fort Langley Community Hall"
Artist, Susan Galick
Oil painting 1/12" gallery wrapped canvas
(edges painted) 18 x 24"
Retail value: $650.
Artist, Janice Robertson
Framed acrylic 18 x 25"
Retail value: $1945.
"Dancing Crows platter #4"
Artist, Elaine Brewer-White
Ceramic, 23" diameter
Retail value: $425.
Artist, Gabrielle Strauss
Mixed media, 27.5 x 35.5"
Retail value: $875.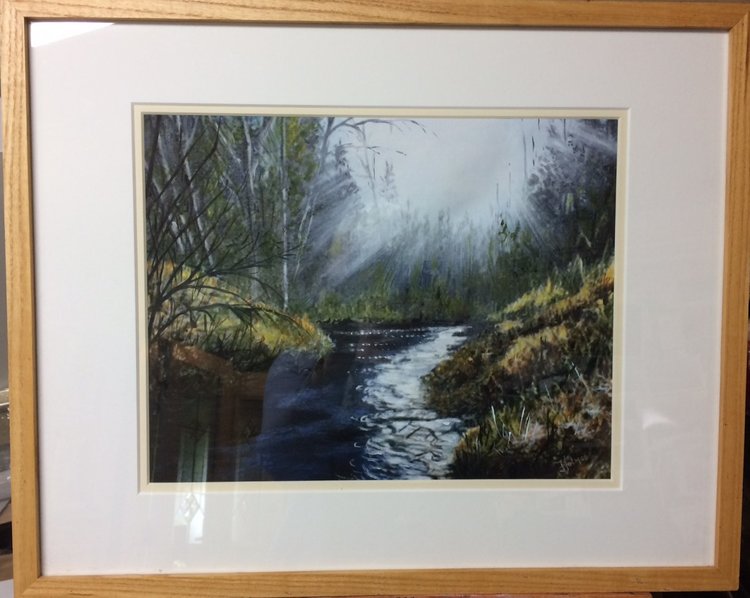 Artist, Felicity Holmes
Mixed media, framed 21 x 17"
Retail value: $225.
3 hammered sterling silver bangles
Artist, Anita Bisset, Fort Finery
The set of bracelets can be custom fit
Retail value: $255.
Artist, Caroline Ashley
Acrylic on canvas, 24 x 12"
Retail value: $495.
Artist, Judy Nygren
Acrylic & ink 12 x 16"
Retail value: $350.
Artist, Susan Galick
Giclee, 24 x 18"
Retail value: $400.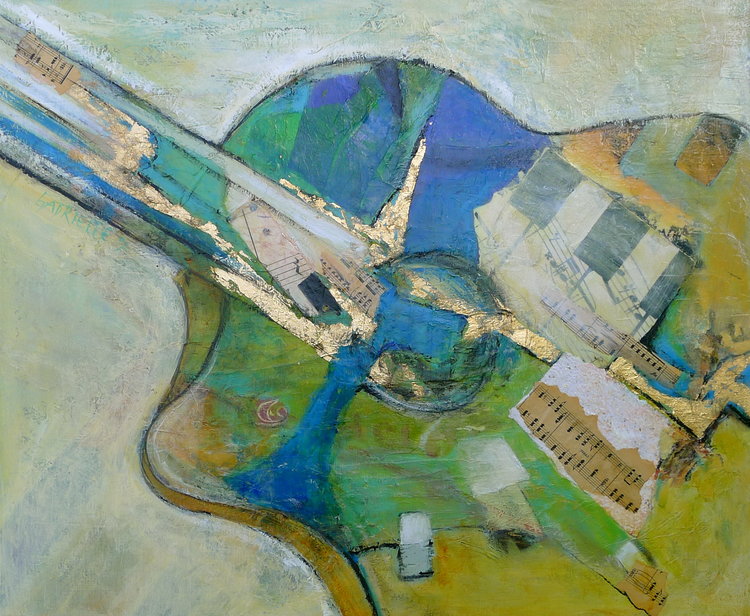 Artist, Gabrielle Strauss
18 x 24"
Retail value $675.
Artist, Linda Muttitt
Great Blue Heron at Birch Bay, framed 20 x 25"
Retail value: $580.
"Fine Porcelain
series #1"
Artist, Susan J. Falk
Oil on canvas, framed 8 x 10"
Retail value: $950.
Artist, Anita Bisset, Fort Finery
Retail value: $160.
Artist, Alan Wylie
Framed giclee print 11 x 14"
Retail value: $350.
"Angel Wings Touched by the Sky"
Wild Moon & Star Art Gallery
.925 Sterling Sliver Earrings
Retail Value: $250.
Artist, Caroline Ashley
Acrylic on canvas, 24 x 18"
Retail value: $875.
"He played Blackbird to his inspiration…"
Artist, Elaine Brewer-White
Ceramic sculpture 17 x 17 x 11"
Retail value: $1600.
Artist, Barb Defago, Kizmit Gift Gallery
Mixed media 20 x 24"
Retail value: $480.
ArtWalk Artists
A self-guided artwalk of local art studios and galleries
Visitors were welcomed into 13 artists' studios and galleries throughout Fort Langley, enjoying original works of art in many genres and mediums, and watching demonstrations
To view and download the ArtWalk Map, click HERE
Jazz Town - Clay Creative!
Come help build Jazz Town out of clay at an outdoor hands-on art event under a tent by the Fort Langley Community Hall. All ages welcome! Local artist, Elaine Brewer-White will also be on hand doing clay sculpture demonstrations.
ArtWalk Artists:
Check out the individual art galleries and studios on the tour:
LINDA MUTTITT
Address: 8963 Mowat Street
When visitors come to explore my Home Studio, they will be able to see paintings in process and how I set up my space for watercolours; creative journaling that integrates art with writing (often through themes); and see different ideas I've used to open my creativity to a day of painting.
THE FORT GALLERY
9048 Glover Road
THE FORT GALLERY is a community based, non-profit, artist collective that encourages and supports individual development and exploration in contemporary art. The gallery features artists who are exploring their personal edge, their individual frontiers, in order to discover their full potential and dialogue with community. Members support the creative process in one another and work together to determine the exploration and direction of the gallery, organizing exhibitions and events that maintain a viable local venue for contemporary arts.
KIZMIT GIFT GALLERY
Address: #150, 9220 Glover Road
Kizmit is Fort Langley's destination for those who seek a well-curated, eclectic mix of fine craft. Representing over 100 B.C. artisans, from Fort Langley to the interior, from the Kootenays to the Sunshine Coast, from Vancouver Island/Gulf Islands to the lower mainland and Fraser Valley, artists are inspired by the world around them, and create pieces that are personally meaningful. Whether we connect to the meaning or simply believe a piece is beautiful, the selection is ever-changing, the inspiration is never-ending.
JANICE ROBERTSON and ALAN WYLIE
#34, 9235 McBride Street
This is the residence and home studios of well known artists Janice Robertson and Alan Wylie. They paint realistic to impressionistic paintings with a wide variety of subjects. Together they have over 80 years of painting experience!
FORT LANGLEY ARTISTS GROUP (F.L.A.G.)
Heritage CN Station
www.fortlangleyartistsgroup.com
The FORT LANGLEY ARTISTS GROUP (FLAG) was formed in 1993. The artists work in two and three dimensions, in a wide variety of media, styles and subject matter. They meet throughout the year for mutual support and show their works from mid-May to Labour Day at the FLAGSTOP GALLERY located in the Fort Langley Heritage CN Station.
WILD MOON & STAR ART GALLERY
9203C Gasoline Alley, Glover Road
https://www.wildmoonandstar.com/
"Ye Ol' Shoppe ... Wild Moon and Star". A curated collection
of unique treasures. This quaint, very colourful little art gallery is
located up the path in Gasoline Alley, Fort Langley. An enchanting
shoppe presenting 10 local artists, crystals and stones in a whimsical
castle theme setting. Featured artists: Lampwork Glass ~ Susan Rind,
and Silversmith Sky Phoenix Shanna.
THE KUBE GALLERY
23433 Mavis Avenue
The KUBE Gallery is a is a contemporary fine art gallery located in the heart of Fort Langley. The gallery exhibits work from established and emerging Canadian artists. It is our mandate to continue to provide an exceptional selection of Canadian painters and sculpture artists to our collectors. The Kube is part of Va-fair group of galleries, representing emerging and established visual artists across a variety of media and genres, and remains committed to excellence in the promotion of exceptional contemporary fine art.
BRANDON GABRIEL- Kwələxwəlstən
Lelam Art and Cultural Café
100-23285 Billy Brown Road
Brandon Gabriel- Kwələxwəlstən is an internationally renowned artist who is a graduate of Kwantlen Polytechnic University and Emily Carr Institute of Art and Design. He specializes in multiple visual art disciplines including mixed media sculpture, large scale art installations, painting, drawing, illustration, and drum making. His featured works address urgent ecological, social, and political issues at the forefront in the Kwantlen Nation.
NUMBER 52 STUDIO + GALLERY
10 - 23230 Billy Brown Road
https://www.number52gallery.com/
Number 52 Studio + Gallery is located in Fort Langley, BC, where artist Paul Wood enjoyed some of his formative years developing his creative skills. After spending decades in the field of Art Direction and Design, Paul has returned to a place of comfort to explore ideas for the future and to spend more time working on his fine art. The gallery is now where Paul will present his artwork to the public for viewing and sale. The gallery also features a fully operational letterpress shop where Paul creates additional artwork and printed ephemera using antique printing presses combined with hand-set wood and metal type along with linoleum cut illustrations. He will be selling prints in the studio and is always producing new work, so you never know what's going to be on the presses.
THE FORT FINERY
#8 - 23230 Billy Brown Road, Fort Langley
The Fort Finery is home of Anita Bisset, the creator of Juliet 925 brand of sterling silver jewellery. The retail store also features fine art, sterling silver jewellery, small batch hand crafted perfumes, soy candles, and curious things, all created locally by B.C. artists and makers.
SUSAN GALICK FINE ART STUDIO AND GALLERY
#7 - 23230 Billy Brown Road, Fort Langley, B.C.
Susan Galick is an impressionist artist who has a talent and ability to transform you to the scenes of yesteryears. Her picturesque paintings depict scenes of bistros, community halls, city streets, alley ways, historic gas stations, quintessential taxi cabs, tug boats, box crab boats, rainy scene bus stops, to farm animals and still lives.
JUDY NYGREN STUDIO
#5 - 23230 Billy Brown Road
Judy Nygren, is a local artist who lives in a live/work space in the Flatiron Building, in Fort Langley. She is a professional painter whose work often borders on abstraction, which reflects her love of movement and her background in dance which is evident on her acrylic and oil canvases.
ELAINE BREWER-WHITE CERAMICS STUDIO
23033 Billy Brown Road, Langley.
www.elainebrewerwhiteceramics.com/
Elaine Brewer-White is a well-known ceramic artist focused on promoting joyful abandon in her work. Although her focus has always been figurative sculpture, she has recently embraced the idea of useable art, and now also creates one-of-a-kind pitchers, platters, mugs and more. She also teaches workshops on occasion, to promote the awesomeness of clay!